Surgeon General Wants Warning Label on Social Media for Youth Mental Health
 In a Thursday Senate hearing, U.S. Surgeon General Vivek Murthy calls youth mental health crisis the 'defining public health issue of our time'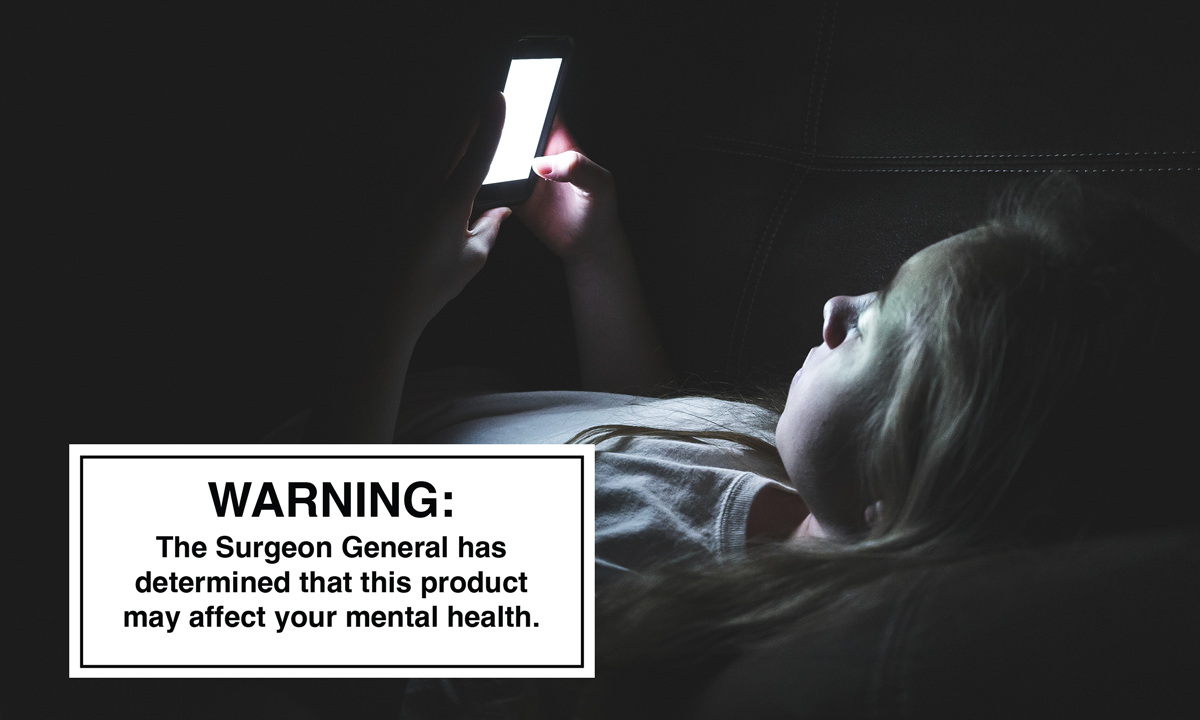 Get stories like these delivered straight to your inbox. Sign up for The 74 Newsletter
U.S. Surgeon General Vivek Murthy voiced support Thursday for adding a warning on social media platforms for the danger they pose to children — much like the existing labels on cigarettes.
"I do think it would be appropriate … if Congress is willing to provide the legislative or regulatory authority to put that label on, then I'd certainly be willing to partner," Murthy said in response to questioning from Republican Sen. Roger Marshall during a Senate Health, Education, Labor and Pensions hearing on youth mental health.
Murthy's response was one of many showcasing the urgency of soaring suicidality, addiction, depression and anxiety among young people, particularly those who are LGBTQ, Black and brown.
One in five high schoolers made a suicide plan in 2021, Murthy said.
The average young American uses social media for about 3 ½ hours each day, making them doubly at risk for disrupted sleep and clinical depression or anxiety.
"This is not just a crisis. It's an emergency. This is probably the biggest problem we have in this country," said Alabama Republican Sen. Tommy Tuberville. "The number one commodity that we have in this country is not gold and silver, it's our young people. And we're destroying them."
Tuberville added in his work with young people as a coach, he has seen prescription drugs take over communities, particularly fentanyl. Several other senators voiced concerns about young people accessing fentanyl-laced counterfeit medications on social media.
Beyond social media, Murthy identified three other drivers of the youth mental health crisis: loneliness; trauma from loss of loved ones, violence, abuse or incarceration; and declining confidence in the future, due to surging economic inequality, racism, gun violence and climate change.
The amount of time young people aged 15-24 spent with friends declined by more than 50% even before the pandemic, Murthy said of the loneliness epidemic, urging for community, faith and local organizations to help rebuild social connection and places of belonging.
Social media age and safety standards should be revamped and in-school programs to teach children tools to manage emotions should be expanded, said Murthy and Katherine Neas, the Department of Education's deputy assistant secretary for special education and rehabilitative services.
"Simply put, schools are a gateway to needed services that otherwise might be inaccessible to many young people," Neas said.
Colleges and universities can increase mental health services on-campus, continue public talks on mental health to decrease stigma, and boost support for communities on-campus like clubs, religious organizations, and support networks for marginalized students, the Surgeon General said.
Murthy added parents should establish safety standards on their children's devices, a necessity given the "utter lack" of accountability when it comes to social media companies' impact on young people, though they've been around for about 20 years.
In a comparison between the auto and tech industries, Murthy told senators they would not expect parents to have the expertise to inspect whether tires or a car's frame would keep their children safe – a government's responsibility.
"They rely on us establishing standards and then enforcing those with manufacturers. These are incredibly complex platforms … and parents need help here to interpret and understand their safety."
The Senate HELP committee has nine healthcare reauthorizations expiring in September that, if not renewed, may impact future access to mental health support across the country. The Support Act, for instance, supports people with substance abuse disorders and children suffering from trauma, and prohibits children in juvenile incarceration from being denied Medicaid.
Sen. Tim Kaine used his time not for questioning but for a heartfelt address to the nation's young people. Kaine's children both attended the Richmond, Virginia high school where two died in a graduation ceremony mass shooting this week.
He acknowledged the feeling of hopelessness many feel, that they cannot change the social conditions they find depressing, cannot yet vote.
"Our history shows the opposite. Things get better when young people do engage," he said. "The therapeutic value of linking arms with colleagues to battle for improvements in climate or reductions in gun violence, that very act … has a positive impact not only on society, but on one's sense of well being."
Get stories like these delivered straight to your inbox. Sign up for The 74 Newsletter